Weaver and Sandstone Cycle Forum (WaSCF) has recently produced a free detailed map specifically designed for cyclists in our locality. The maps were commissioned by WaSCF which was set up in 2013 to promote cycling and improve cycling provision across North Cheshire.

500 maps, listing numerous local routes and other information useful to cyclists, have been produced and have been disseminated to cycle shops, cafes and other business and public organisations throughout the area. Also at the start of this school term, 120 maps were delivered to local schools throughout Frodsham and Helsby for the benefit younger cyclists and parents. With the maps having been so well received, WaSCF proposes to recommission another print run of 1000 maps that will be available in the near future.

Sponsored by RSK Environment Limited, one of the UK's leading environmental consultancies whose head office is based in Helsby, Sue Sljivic a Director of RSK commented: "encouraging greater cycle use is part of our company ethos and RSK had no hesitation in supporting this most worthwhile local initiative".

Chairman of the forum, Dr Patrick Milroy stated:
"I am delighted with the both quality and detail of the maps that will be of great assistance to cyclists of all ages and abilities. These informative cycle maps are just one of the many initiatives that WaSCF is working on encourage cycling usage and safety across our local area"

Anyone interested in supporting WaSCF efforts and objectives; more information can be found on its website www.cyclenorthcheshire.com.

Pictures: Dr Patrick Milroy Charman of Weaver and Sandstone Cycle Forum (WaSCF) with Sue Sljivic, Director of RSK Environment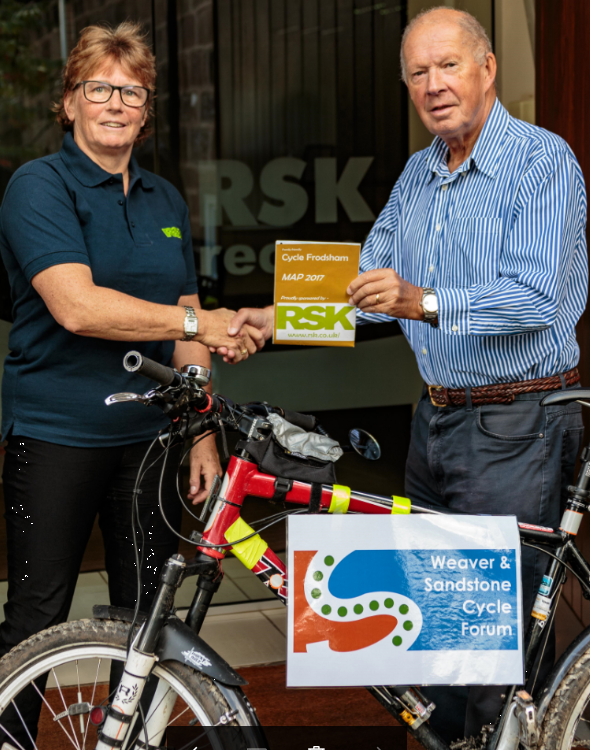 Frodsham Cycle Map: Launch event at the head office of the map's sponsors, RSK plc.

Photo: © Weaver and Sandstone Cycle Forum (licence CC BY-ND).