CNC was invited to run two events as part of the 'Summer Activities' programme intended mainly for children at Saltworks, Ship St & Castle Park in Frodsham in August. Our plan was to show young cyclists the safety checks they should know about and make minor adjustments if necessary. This worked well at Ship St. with approx. 6/7 children & parents who were very keen for us to check their bikes and fix a number of problems, one of which was very hazardous but Frank White with his Bike Repairman overall and excellent skills corrected it swiftly.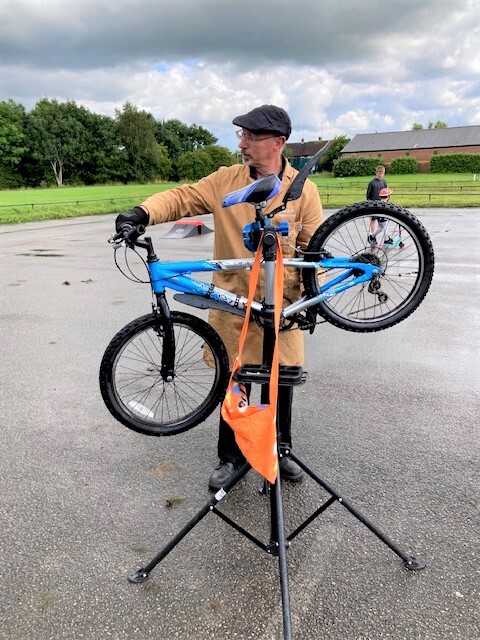 The event in Castle Park turned out to be completely different as no children brought bikes for checks. However quite a few adults were interested in what we are campaigning for & keen to chat especially about the Tranche 2 LCWIP plan to provide a segregated cycle track between Carriage Drive, Frodsham to Helsby High School. Quite a few said; "Good but - what about the junction @ Howey Lane/Carriage Drive?" or "Good but - what about the entrance to the school?"
Incidentally we have been assured that this T2 project will proceed after a redesign which was required in response to the "Good but - "feedback they received. The revised design and timescale has not yet been shared.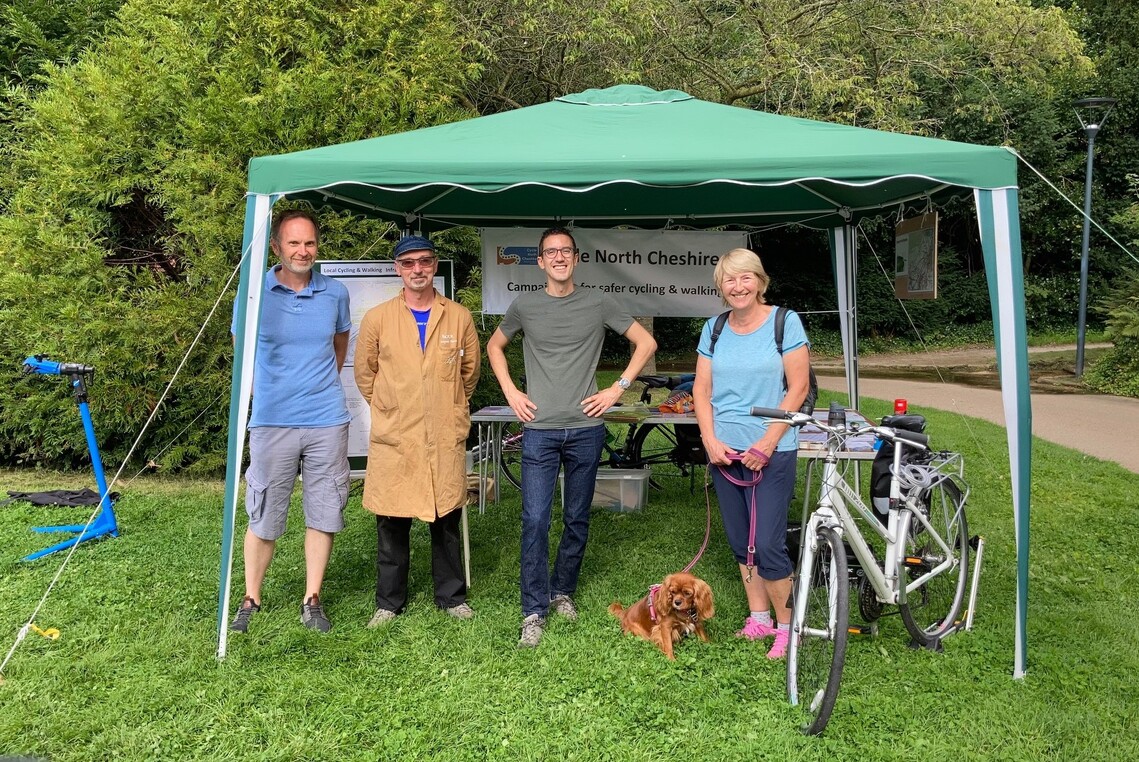 Bike Marking
PCSOs Neil Flanagan & Lauren Davies ran three sessions in August and they were very pleased with how it went. I dropped into the one they ran @ Helsby High School on 28th and had six customers in the first half hour. What they do is link a unique QR code placed on each bike to a national register, which is then traceable. I recommend this to all riders and they intend to run another session at Frodsham Fire Station on 13th September between 10.00 -14.00.
Bikeability Course : Levels 1 & 2
This free course, funded by Cheshire West, was run very well by two qualified Bike Right trainers on 27th August in Castle Park. It was attended by several young cyclists, who clearly benefited from the practice in basic bike handling skills which they were able to practice in a safe off-road location – a coned off section of the car park. For example they were expected to ride with one hand held out to clearly indicate a left and a right turn and keep stable. After they have shown sufficient ability they were taken out onto a quiet road, Park Avenue, to practice stopping & turning at junctions. Again, I can recommend this course. https://bikeability.org.uk/bikeability-training/bikeability-level-1/
Posted by Ashley McCraight with contributions from many CNC members, PCSOs Neil Flanagan & Lauren Davies & the Bike Right's trainers