Background
The Chester Greenway is a pathway that runs between Mickle Trafford, through the centre of Chester and out to Deeside, opened in 2000 as the "Millennium trail" it is built largely on a disused railway line and forms part of the Sustrans network offering safe, segregated route for walkers and cyclists for both utility purposes, i.e. commuting to work, schools shops etc and also for leisure, families can walk or ride here with little risk, a great space for children to learn cycling skills before they go to the next stage of training, (Bikeability etc). It has an excellent tarmac surface and is hence suitable for wheelchair users and young children being pushed in prams.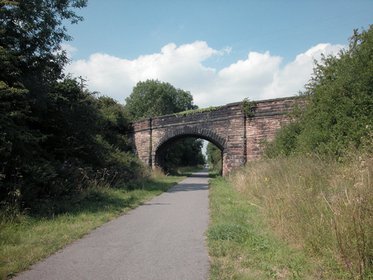 The Greenway offers a host of benefits to the community it serves.
A safe pathway for journeys
Healthier lifestyle, unquestionably those who regularly walk or cycle, both for work and/or leisure are less likely to be obese, this means that the health risks associated with obesity are much less likely, e.g. the risk of type 2 diabetes, elevated blood pressure and the knock on effects on organs are much lower moreover some types of cancer are being linked to obesity and a more physically active lifestyle can help mitigate this risk too. The cost of treating obesity driven health issues is a load we are adding onto the shoulders of our young people to pay for. (£6.1Bn in 2014-15, more than we spend on Police, fire and judicial services combined.)
Fewer journeys made using cars will mean

A reduction in greenhouse gasses and help the fight to arrest climate change
Improved air quality, this is being recognized as an important in young children see https://www.healthyair.org.uk/schools/ driving children to school simply adds to this problem
Roads are freed up for motorised users as they don't have to share the space with as many cyclists or pedestrians
Objective
Cycle North Cheshire is campaigning to get a similar pathway for our area which could serve the community with the above benefits. This would link to the existing Greenway approximately doubling its current length to around 18 miles.
There is overwhelming evidence that people would like to walk or cycle more, but have fears about safety, see https://www.cyclinguk.org/press-release/britains-potential-cyclists-put-cycling-due-traffic-conditions-and-potholes and https://www.sustrans.org.uk/blog/why-dont-more-women-cycle.
We envisage a project that extends the current Greenway from Mickle Trafford into Helsby then to Frodsham, culminating at the Borough border where the links into the Halton and Warrington cycle networks could be made.
Much of this route is on Sustrans NCN5, however many stretches are deemed "red zones" by them. These are largely on the A56, where there are sections which are very narrow , (double white lines in the centre – making it difficult for other road users to overtake,) or on a part where the speed limit of 50mph make it unsuitable for sharing with cyclists. This means they are seen as hazardous and requiring an alternative.
This path would also link to Elton and Thornton Science Park for workers to choose to cycle to work from Frodsham and Helsby.
This is a very worthwhile objective, but clearly a major undertaking. It is almost certain that it will need to be split down into a series of smaller paths that ultimately link together and to the Greenway forming an off road safe route for people to walk and ride for both commuting and leisure from Deeside to Halton. Importantly it would deliver a safe route to Helsby High School from both Helsby and Frodsham pupils. With the increased use of High School sporting facilities for the area the path would help to deliver an A56 sporting corridor.
Realistically this will take many years, maybe a generation or more, but unless we actively pursue the concept it will never happen.
January 2020 - progress update
The Cheshire West and Chester Local Cycling and Walking Infrastructure Plan (LCWIP) was adopted in July 2020, this contains 2 relevant passages in relation to this objective
A segregated path from the Halton border through Frodsham, passing the High School on on to Helsby, (roughly the Tesco arrea,) is part of the borough plans.
A recommendation on creating a plan to link this path to the Greenway at MIckle Trafford.
This, in effect delivers the objective we are pursuing, but there are a lot of challenges to be met!
The first stage of this is planned for spring 2021 with an improved link from Helsby High School to the outskirts of Frodsham
Route
The draft route needs to be examined and developed into a complete plan. Cycle North Cheshire is working to try to get this study done by the summer of 2021 and position the council to pursue the appropriate funding sources.
We are also exploring whether the former Helsby to Mouldsworth railway line could be acquired in some way and converted to a shared use path, (like the Chester Greenway.) Certainly this seems an attractive option from the Tesco area through to Manley Lane as a first step, beyond that there are a number of options that need understanding and exploring.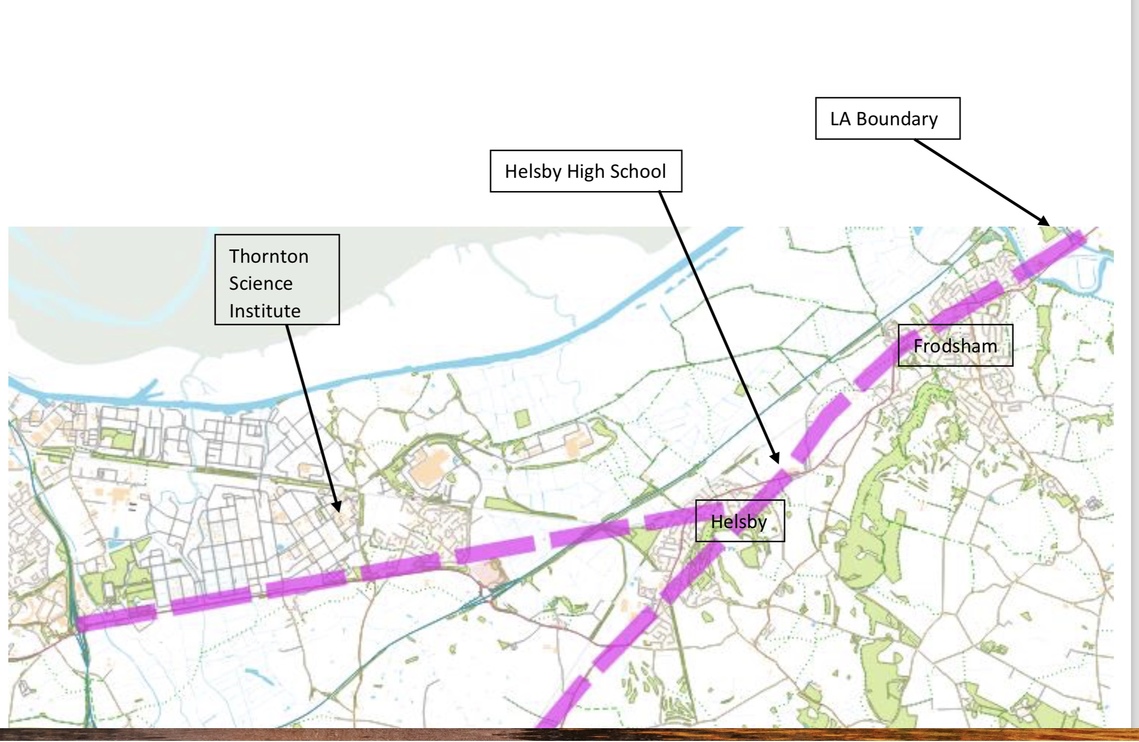 If you would like to get involved in this project please email us cyclencheshire@mail.com